Watersports are for everyone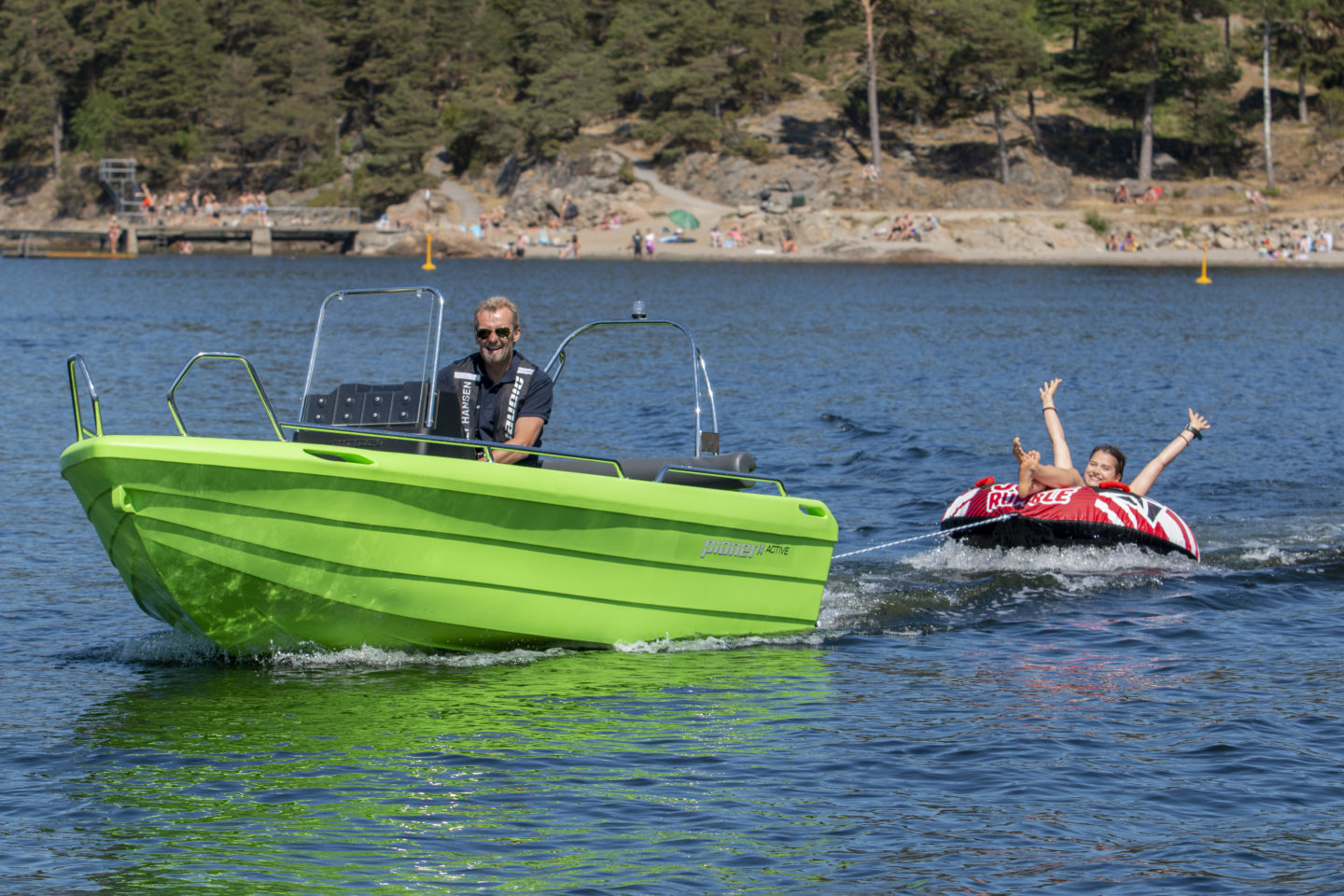 There are many kinds of fun and exciting watersports. Whether you prefer no more than a gentle breeze ruffling your hair or a full on adrenaline rush, you can have plenty of fun on the water.
There is something to suit everyone, either in a boat or directly in or on the water, and not much can beat a full day of activities with your family. Here are a few recommendations.
Jet ski
Jet skis are fun in every respect.
There are different models, from family versions to competitive racing jet skis.
Jet skis are compact and flexible and really fun to drive.
When you open the throttle and feel the power underneath you, you get a genuine adrenaline rush. They are pretty easy to manoeuvre at both low and high speeds.
A jet ski is also a pretty smart form of transport if you don't have any baggage.
You can even tow lighter boats and pull a wakeboard with a jet ski. Naturally, you also have the same responsibility to drive safely and with respect for other people, wildlife and the environment.
Water skis
Water skiing is a fast and fun sport for all the family.
You don't need a special boat for it, simply a boat that planes and with a powerful enough engine, so a smaller motorboat works well.
Ask for help and advice when trying water skis, and in particular, make sure the bindings are a good fit for your feet. They should sit firmly but without cramping your feet or feeling uncomfortable. How fast you drive depends in how heavy the person is. As a rule, in the case of a lightweight person or a child, 10-12 knots will be a good speed.
It can be a bit tricky to get started at first, and it is worth spending time practising this to have a more enjoyable experience. It can be a good idea to practise starting from land together with a family member or a friend.
It is then up to the boat driver to ensure the line is sufficiently tensioned to ensure smooth and enjoyable skiing.
Naturally, both boat driver and water skier should wear a PFD.
Towable tube
Riding on a towable tube behind a boat is a thrilling experience. The great thing is that everyone can have a go. The game can be adapted to the person sitting in the tube, from a gentle tow in the sun, to a high speed dash swinging from side to side for excitement lovers.
You can even tow several tubes behind a boat, and you can compete to see who manages to stay in the tube longest.
There are tubes that can seat one or several people, all depending on how brave you are.
A planing boat with a powerful enough engine and tubes with suitable lines are all you need to get started. Remember to make sure everyone is wearing a PFD, even the person sitting in the tube.
Snorkelling
Snorkelling is a fantastic way to discover life under the surface of the water. All you need is flippers, a snorkel and mask to get started. You will enjoy the best vision when you snorkel on a windless day in water from one to five metres deep. You will then have a chance to see many different species. If you are lucky, you may see bigger fish by steep rocks under water.
Make sure the mask fits tightly and that the snorkel has a dry top valve to prevent getting water in it. Flippers should be a good fit so you can swim effectively with them. When you start, it can be worth wearing fin socks to avoid blisters. You should never go diving alone, so bring someone with you or ask someone to stand ashore and keep an eye on you, for your own safety.
There are plenty of wonderful places to go snorkelling along the coast, and even places with signposted snorkel trails.
Test our boat configurator
What to pack for watersports